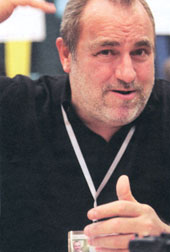 Mikel Olaciregui, secretary of San Sebastian Film Festival, was one of the jury members at the international section of the 27th Fajr International Film Festival alongside well-known international filmmakers such as Andrei Zvyagintsev from Russia and Semih Kaplanoglu from Turkey, among others. We talked with them after the final session of the jury to elect the best films of this year.
This seems to be your first visit to Iran.
Yes, that is true, but I have come across Iranian films many times as the secretary of San Sebastian Film Festival. I know the Iranian cinema.
Have you seen any Iranian films?
I have seen many. The ones shown in San Sebastian were so wonderfully welcomed. I have also been to many other festivals where I followed Iranian films. Today, I visited the Cinema Museum. It was nice to see the awards won by the Iranian cinema.
How do you evaluate Iranian cinema as compared to films from other countries?
I believe Iran has a powerful and great cinema. Today, it is difficult to take films across the border and make them global. Few countries can do that. This is not a problem only for the Asian countries. What I have seen at the film market is not enough to make a judgment. I am planning to see more while I am here and then I can pass a judgment.
What did you know about Iran beforehand? How was it culturally and socially different from what you thought?
I think Iran has an extraordinary culture, although it is my first time here. I knew the country from its films so it was not so different from what I thought. But I cannot give you the full picture because I did not manage to go downtown and meet the people. Tehran is a large city and you cannot get the grasp of it within only a few days. However, I am glad I came here and met the country's people. In my country in Europe, we have problems for showing films from countries such as Germany and Italy. I am glad to say that the Iranian cinema has managed to become global and find an international audience.